Kirkus Reviews
A debut historical novel about fortunes made and lost during the silver rush of the 1850s.
McGranahan's story is set in San Francisco and Virginia City, Nevada, in 1854, covering the first major silver ore discovery in the United States, known as the Comstock Lode. The author retells history from the perspective of William Ralston—one of the most influential financiers of the period. Ralston falls in love with Louisa Thorn, a wealthy debutante, and together, they dream of transforming San Francisco into the most beautiful city in the world. However, Louisa dies suddenly before they can marry. Driven by his love for her, Ralston decides to transform San Francisco as a banker. He marries a woman named Elizabeth (who promises to help him forget about Louisa) and founds the California Bank, where he becomes the financier for the Comstock project. Water in the mines slows production, but Prussian engineer Adolph Sutro offers a solution: build a four-mile tunnel beneath the lode. At first Ralston agrees, but then his partner turns him against the idea, and Sutro spends 10 years seeking support for the tunnel. Betrayals follow, along with political intrigue, fighting between Protestant and Irish-Catholic miners, stock frenzies and bank runs, all while Ralston clings to both his marriage and a street girl named Jessie, who looks just like his deceased fiancee. Will Ralston be able to keep his life together? McGranahan's character development is superb; readers will truly care about what happens to Ralston and other main figures in the story. However, sometimes the plot loses forward momentum, and at other times, the story advances far too quickly: "Abraham Lincoln was elected president…soon after the Civil War began. The year after that…little Louisa chewed on a matchstick, became ill, and died." Still, McGranahan's writing is often evocative, displaying all the hallmarks of fine literature: "Shivering, he nodded to a boy leaning innocently against a lamppost, collar turned up and cap pulled down. The lamplighter nodded back, a little grin creasing his lips."
An often captivating story about Nevada's first silver rush, with veins of well-crafted prose, good character development and some solid storytelling.
Young William Ralston
William Ralston
Elizabeth Ralston
Young Adolph Sutro
Adolph Sutro
Leah Sutro
William Sharon
James Flood
Young John W. Mackay
John W. Mackay
Asbury Harpending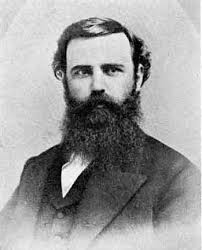 Sutro Tunnel
Mining Schematic
Aerial view of old San Francisco
Mt. Davidson and Virginia City
Map of the Comstock Lode - note the Sutro Tunnel lines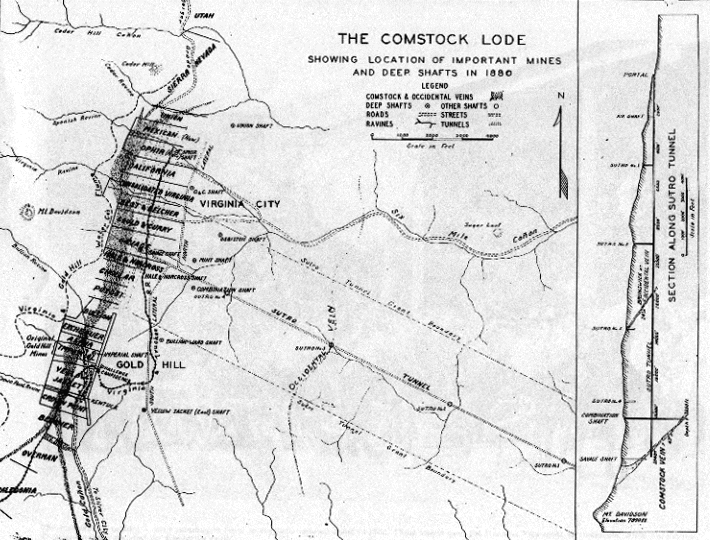 Geologic Map - Comstock
The below was excerpted from Digging Deeper into the Comstock, by the Nevada Bureau of Mines and Geology Educational Series E-48.
Geology:
• Three distinct Miocene volcanic suites, one at 18.3–17.4 Ma, one at 15.8–15.2 Ma, and one at 14.9–14.2 Ma.
• Host rock, early to middle Miocene (15.8–15.2 Ma) Alta Formation andesite.
• Mount Davidson (above town, 15.3 Ma) is composed of Davidson Diorite (actually a granodiorite) which is correlative with age of Alta Formation; Davidson Diorite is in the footwall of the Lode for most of its length.
• Two types of mineralization are present:
Regionally most extensive is advanced argillic,

high-sulfidation mineralization (15.5–15.3 and 13.5–13.3 Ma). Lots of pyrite, silica ledges, and associated alunite, but very little gold or silver. Red rocks along Geiger Grade are evidence of this type mineralization.

More restricted Comstock quartz-adularia, low- sulfidation mineralization (14.2–14.1 Ma). Quartz, calcite, adularia ores with associated silver and gold. This is the Comstock ore-stage mineralization.
• Most of the known orebodies occur within the Comstock fault zone (at Virginia City and Gold Hill), or the Silver City fault zone (at Silver City). A few orebodies occur in hanging wall fractures of the Comstock fault zone, such as the famous Con Virginia bonanza.
• The Comstock fault zone can be traced on the surface by pits that can be seen on the slope to the west above town and by silicified zones and veins (narrow, light-colored ribs) that can be seen cropping out on the steep slope above the pits.
• The Comstock Lode is a stockwork zone of quartz veins. Individual veins commonly are 0.1 to one inch wide, and rarely exceed one foot. Near surface, the veins are composed of calcite, quartz, and adularia. Deeper veins are entirely quartz with adularia. The veins are usually banded. Ore minerals consist of argentite and electrum with some galena, chalcopyrite, and minor pyrite.
• The vertical extent of the orebodies within the Lode rarely exceeded 500 feet, and strike lengths rarely exceeded 1000 feet. Mining widths were up to 150 feet.
---
Virginia City, with its honeycomb of underground mine workings and many surface open pit operations is located high on the east side of the Virginia Range, which consists mostly of Oligocene to Miocene volcanic rocks that overlie Mesozoic metamorphic rocks and Cretaceous granodiorite. Andesitic to dacitic (intermediate) volcanic rocks – mostly flows and breccias – and associated intrusions, began to erupt about 18 million years ago and continued until about 8 million years ago with later rhyolitic and basaltic (bimodal) volcanism continuing to only a million years ago. About the same time the earlier volcanic rocks were being erupted, the Davidson Diorite was intruded, which now forms most of Mt. Davidson just west of Virginia City. As the volcanic system waned, hot water continued to percolate through fractures, altering and mineralizing the broken rock in what is called a hydrothermal system, much like that surfacing at Steamboat Hot Springs today. We will look for evidence of hydrothermal alteration of the rocks along the route and in the Comstock district, where the original minerals of the fresh, gray volcanic rocks have been leached away and new minerals formed, often lighter and brighter in color and softer than the original unaltered rock. Hydrothermal systems also deposited the gold and silver that led to the development of the mining district. Several widespread episodes of hydrothermal activity and precious metal mineralization have been identified by the many generations of geologists who have studied the rocks of the Virginia Range. Recent work (Nevada Bureau of Mines and Geology Map 165, Geologic map of the Virginia City quadrangle, 2009) documents several separate volcanoes and hydrothermal systems, including the famous Comstock Lode.
---
Virginia City's mines produced a huge amount of silver as well as gold from the Comstock Lode mainly between 1859 and 1900, and mining along the trend continues to this day. The Comstock Lode is a set of roughly parallel quartz veins that extends for more than 13,000 feet along the east flank of the Virginia Range The vein was exposed at the surface in the area of the Kendall Cut above "A" Street, which we will visit next, and dipped or tilted down to the east at an angle steeper than the hillside, so the mines farther downhill from "A" street had to go progressively deeper and deeper to intersect the veins.You may notice that the size of the mine dumps increases downhill, indicative of the greater amount of material that had to be dug out to reach the orebodies. Refer to the "Comstock Facts" page at end of log for more detailed information.
Fact or Fiction?
Readers keep asking: What is fact and what is fiction? At the end of the book you'll find an Epilogue and Historical Notes that sheds some light on this question. However, for those inquiring minds who want more detail, I give you the following.
Was Louisa Thorn historical or fictional? Historical. And she was the granddaughter of Cornelius Vanderbilt.
Did Ralston have a miniature portrait of Louisa Thorne, given him by her mother? Yes (see below).
Here is a quote from the biography on Ralston, Nothing Seemed Impossible, by David Lavender, page 118:
" Lonely Raston rushed her [Elizabeth Fry] so breathlessly that her uncle grew concerned and, family lore attests, demanded to know what the banker's intentions were. Ralston said that they were honorable. With a burst of candor he added, so the story goes, that his love for her was not the soaring love of youth. That passion had gone to Vanderbilt's granddaughter, Louisa Thorne, whose miniature he always carried and whose memory would never fade. But if Lizzie...would accept him in spite of his devotion to a dead predecessor, he would, with complete awareness of the honor accorded him, make her his wife."
Did Ralston name his daughters after Louisa and her mother? Yes.
Another quote from Lavender, page 146: "Ralston...was surely home on August 2 [1860] for the birth of his second child, a girl. The father, legend says, chose her name: Edna Louisa. The source of Edna is unknown. Louisa, gossips whispered, was for Billy's first and enduring love, Louisa Thorne, Cornelius Vanderbilt's dead granddaughter. However understanding the mother may have been...it is impossible not to wonder how she really felt at the christening."
And, Lavender, page 164: "...another child, a girl this time, arrived on July 26, 1865. The father promptly named her Emma Thorne Ralston, for Cornelius Vanderbilt's daughter, Emma, mother of the first Louisa."
Did Ralston go the San Francisco to rebuild the city in Louisa's honor? This may or may not be true, but given his obsession with Louisa and San Francisco, I felt it made perfect sense and could be justified in the context of historical fiction.
Did Ralston have an affair with the prostitute, Jessalyn Ohhlson? No. Jessalyn is a fictional character, therefore, he did not have an affair with her "in real life." Jessie acts as a muse, a confidante, to Ralston, allowing him to express certain ideas and feelings that he would not otherwise. Jessie is also the romantic interest for Finnian Gillespie; the three-way romance, Ralston, Jessie, and Finn, is an important sub-plot that plays out as the story comes to a climax.
Was Ralston obsessed with San Francisco? Yes.
Did Ralston swim for recreation in the Bay? Yes.
Did Ralston break into the U.S. Treasury and exchange gold coin for bullion? Yes.
Did Ralston race trains down the Peninsula to Belmont? Yes.
Did Sutro actually leave his wife and children in San Francisco, and move to Virginia City? Yes.
Did Ralston initially agree to support the tunnel? Yes.
Did the Yellow Jacket Fire actually happen? Yes. Finn, of course is fictional, as is his involvement in the fire, however, his character does provide an accurate picture of how the miners and firemen battled, and perished in, the fire.
Was the Diamond Hoax fact or fiction? Fact. Although the identity of the mastermind was unknown, Harpending was implicated by several observers.
Did Sutro sell his tobacco shops, leave his family and move to Virginia City? Yes.
Did Sutro act as his own attorney in the Congressional hearings on the Comstock Lode? Yes.
Did Sutro dig a four-mile tunnel from the desert up to the Comstock Lode? Yes.
These sources were consulted:
Original Documents & Site Reconnaissance:
San Francisco Public Library, Historical Section: Alta California newspaper microfilm from 1850s and 1860s; Old San Francisco city maps; S.F. - Peninsula train route maps.
In the basement of the Bank of California building (which became the Union Bank of California, then just Union Bank) on Sansome and California Streets in San Francisco, a William Ralston museum is maintained, including many photographs and artifacts from the Ralston era. These photographs show the employees and some details of the bank building itself, which was destroyed by fire in the 1906 earthquake.
Starting on Mission Street in San Francisco, drive west, then southwest until Mission becomes the Old County Road flanking the San Bruno Mountains, and this eventually feeds into El Camino Real on the peninsula and continues south. This is the route that Ralston took when racing the trains from San Francisco to his home in Belmont.
Bancroft Library, UC Berkeley: William Ralston correspondence; Report of the Commissioners ... in Regard to the Sutro Tunnel, referenced below, from which I used direct testimony given by both Sutro and the witnesses.
University of Nevada, Reno: Comstock Lode and Virginia City Maps and geology.
I made two trips to Virginia City where I inspected Piper's Opera House, the original Bank of California branch office of William Sharon, St. Mary's in the Mountains, and took a tour of the Savage Mine. Heading east out of Virginia City on what is now called Highway 79, one travels down the eastern face of Mt. Davidson and, at the eastern edge of town, the road becomes the old Six Mile Road. This is the same road traversed by Adolph Sutro from his home in Dayton, and also referenced several times in the text, including Ch. 12. The scenery hasn't changed much in the last 160 years (one suspects) and driving the road gives one a good feel for what travelers saw as they approached the Comstock Lode.
Books:
Nothing Seemed Impossible
William C. Ralston and Early San Francisco
David Lavender
American West Publishing Co., 1975
Adolph Sutro, A Biography
R.E. Jr. and M.F. Stewart
Howell North Books, 1962
Ralston's Ring
California Plunders the Comstock Lode
George D. Lyman
Charles Scribner's Sons
NY, NY1937
Report Of The Commissioners And Evidence Taken By The Committee…In Regard To The Sutro Tunnel (1872)
The Advantages Of A Deep Drain Tunnel For The Great Comstock Ledge
Adolph Sutro
San Francisco, Feb. 1865
The Roar and the Silence
The History of Virginia and the Comstock Lode
Ronald M. James
U of Nevada Press, 1998
Men to Match My Mountains
Irving Stone
Doubleday & Co., 1956
The First Tycoon
The Epic Life of Cornelius Vanderbil
T.J. Stiles
Alfred Knopf, New York 2009
Commodore Vanderbilt
Alfred A. Knopf
1942
By Wheaton J. Lane
The Vanderbilt Women
Dynasty of Wealth, Glamour, and Tragedy
Clarice Stasz
1991
Commodore: The life of Cornelius Vanderbilt
Edward J. Renehan, Jr.
Basic Books, NY 2007
Commodore Vanderbilt, An epic of the steam age
Wheaton Lane
Fortune's Children
The Fall of the House of Vanderbilt
Arthur T. Vanderbilt
William Morrow & Co.
New York, 1989
Foreign Dialects
A Manuel for Actors, Directors and Writers
By Lewis Herman and Marguerite S. Herman
Theatre Arts Books, New York
The Barbary Coast
The Informal History of the San Francisco Underworld
Herbert Asbury
Brown and Nourse, 1949
Copyright 1933, Alfred A Knopf, Inc.
The Man Who Built San Francisco
A study of Ralston's Journey with Banners
Julian Dana
NY, The Macmillan Co., 1937
William Chapman Ralston
Courageous Builder
Cecil G. Tilton
1935
Golden Gate Country
Gertrude Atherton
American Folkways
Duell, Sloan & Pearce, NY 1945
Coins in History
John Porteus
G.P. Putnam's Sons
200 Madison Ave. NY
1969
The Discovery of Gold in California
Article by Gen. John A. Sutter
Hutchings' California Magazine
November, 1857
Europe, A History
Norman Davies
Oxford University Press
Oxford – New York, 1996
A History of Europe
J.M. Roberts
Allen Lane, The Penguin Press
NY, 1996
The Sierra Nevada
A Mountain Journey
By Tim Palmer
Island Press
Washington, D.C. 1988
City of Women
Sex and class in New York, 1789-1860
Christine Stansell
Illiam Books
Alfred A. Knopf, Inc. 1982
Roughing It
Mark Twain
A publication of the Mark Twain Project
of The Bancroft Library
University of California Press
Berkeley, CA
Life on the Mississippi
Mark Twain
Oxford Mark Twain
Oxford University Press
1996
The History of the Comstock Lode
Grant H. Smith
Nevada Bureau of Mines and Geology
University of Nevada
Reno/Las Vegas
1943, 1998
A Short History of Germany
The MacMillan Company
1909
Norwood Press, JS Cushing Co.
Norwood, Mass.
The Cambridge Illustrated History of Germany
Martin Kitchen
Cambridge Univ. Press
1996
A History of United States Coinage
Ted Schwarz
A.S. Barnes & Co.
The Tantivy Press
San Diego & New York
1980
Sketches of Early California
Compiled by Donald DeNevi
Chronicle Books, San Francisco
1971
A Yankee Trader in the Gold Rush
The Letters of Franklin A. Buck
Compiled by Katherine A. White
Houghton Mifflin Co.
The Riverside Press Cambridge
1930
The Fire Horses of San Francisco
Natlee Kenoyer
Westernlore Press, LA 1970
Victorian Working Women
Wanda F. Neff
1966
Victorian Life and Victorian Fiction
A Companion for the American Reader
Jo McMurtry
1979, Archon Books, Hamden, Conn
Women Have Always Worked
Alice Kessler-Harris
1981
Women in the American Economy
W. Eliot Brownlee and Mary M. Brownlee
1976
American's Working Women
A Documentary History
Linda Gordon, Rosalyn Baxandal, Susan Reverby
1976
Paddy and the Republic
Ethnicity and nationality in Antebellum America
Dale T. Knobel
Wesleyan U. Press, 1986
Confessions of a Shanty Irishman
Michael Corrigan
AmErica House
2001
Comstock Women, The Making of a Mining Community
Ronald M. James and Elizabeth Raymond
U of Nevada Press, 1998
Madams of San Francisco
An Irreverent History of …
Curt Gentry
Doubleday, 1964
The Big Bonanza
Dan De Quille
Knopf, 1947
Comstock Mining and Miners
Eliot Lord
Howell-North
1959
Old San Francisco
The Biography of a City
From Early Days to the Earthquake
Doris Muscatine
Putnam, 1975
The History of the Comstock Lode
Grant H. Smith
Nevada Bureau of Mines, 1943
Dictionary of Tools
Used in Woodworking and allied trades c.1700-1970
R.A. Salaman
Charles Scribner's Sons, New York
Slang, Today and Yesterday
Eric Partridge
1933, Routledge & Kegan Paul Ltd
An Irish Journey
Sean O'Faolain
1940, Longmans, Green & Co.
London
A Dictionary of Slang and Unconventional English
Eric Partridge
1961 New York
The MacMillian Co.
English as We Speak it in Ireland
P.W. Joyce
1910, Longmans, Green & Co.
London
The Vocabulary of Anglo-Irish
James M. Clark
Folcroft Library Ed 1974
A Dictionary of Hiberno-English
xxx
1848, Year of Revolution
Mike Rapport
Basic Books, 2008